We want to help you make more informed decisions. Some links on this page — clearly marked — may take you to a partner website and may result in us earning a referral commission. For more information, see How We Make Money.
United Airlines is one of the "Big 3" U.S. airlines, with Delta Air Lines and American Airlines. With a large domestic and international route network, including hubs in Newark, Chicago, Houston, Denver and San Francisco, United flies to all inhabited continents and is part of a global alliance of airlines. It offers a lot of opportunities for earning miles, and then using them for free flights.
Whether you fly United often or only plan to do so every now and then, the first thing to do is sign up for its free loyalty program, MileagePlus. Once you're a member, you'll earn miles every time you fly United or a partner airline, dine at participating restaurants, spend on a co-branded credit card and more.
Like all other points and miles, United MileagePlus miles are a type of currency. And understanding how much your points and miles are worth can help you decide when to redeem them, and when to pay out of pocket instead. That begs the question: How much are United Airlines MileagePlus miles worth, exactly?
We did the math, and based on how much you'd have to pay in cash versus how many miles you'd need to redeem for a given flight, we concluded that United MileagePlus miles are worth 1.6 cents each.
Of course, the value of miles is subjective; rather than just having a monetary value, it matters what they are worth to you personally, based on the experiences they can buy. And ultimately, as long as you are saving money on travel, using miles is a win in our book.
Let's take a closer look at how we arrived at that valuation.
How Much Are United Airlines MileagePlus Miles Worth?
Like all airline and hotel currencies, United Airlines miles generally do not hold a lot of value. That's because the airline can make it more expensive to use them at any given time, thus devaluing them overnight. To that end, we recommend using miles sooner rather than later once you earn them.
Unlike credit card points, such as American Express Membership Rewards points or Chase Ultimate Rewards points, airline miles cannot be transferred to other programs. Instead, you can only use them when flying on the designated airline or its partners. Credit card points, on the other hand, can be used on various airlines as well as hotels, and even for offsetting purchases via a statement credit. Credit card points tend to be more valuable because of this flexibility.
United Airlines, like its competitor Delta, does not publish an award chart. That means prices for awards when you redeem your miles can fluctuate depending on the route, date and time.
All that said, using United Airlines to offset the price of your travel can help you fly for just the cost of taxes and fees. This strategy can be especially useful when flying in business or first class, as these seats can cost you thousands of dollars, especially on international routes. By using miles, you can find yourself in one of these seats for the cost of taxes and fees — a play that's especially valuable right now, when travel is coming back after the pandemic and some airlines, including United, are selling premium seats for relatively cheap prices in miles.
To arrive at our valuation of 1.6 cents per mile, we looked at flights on some of United's main routes in cash and then miles, and divided the price in cash by the price in miles.
Seattle to Denver in June
We looked at a route into a big United hub, Denver, for a four-day stay in June. Economy class round-trip would cost $222, while first class would go for $550.
In miles, the price would be 17,100 and 28,200 miles respectively, plus $5.60 in taxes and fees.
At these prices, the value of a United MileagePlus mile is:
Economy: 1.3 cents
First class: 1.9
Average: 1.6
Note that we calculated the value of an economy class award on the basis of a non-refundable economy ticket, which is what most people buy, and ignored fully refundable economy, which allows more flexibility but is not a popular fare among leisure travelers. We did not calculate for basic economy — a fare class that buys a seat in regular coach, but with restrictions — since there are no corresponding awards. We also did not factor in taxes and fees, which are a small amount.
Newark to Tel Aviv in October
To gauge the value of a mile on a popular long-haul route, we looked at Newark to Tel Aviv, Israel, in October 2021. In cash, you would pay $982 for economy, $2,111 for premium economy and $4,229 for business class.
Business class here means seats that turn into fully flat beds, while premium economy is separate from regular economy, with better service and the same legroom as domestic first class.
In miles, you'd pay 61,000 for economy, 136,000 for premium economy and 270,000 for business.
This yields the following values for a mile:
Economy: 1.6 cents
Premium Economy: 1.5
Business: 1.6
Average: 1.56
We have found domestic awards out of major United hubs like San Francisco, Newark and Washington-Dulles for flights this summer that yielded between 2 and 3 cents per mile. Those are exceptional values, with tickets going for as little as 9,700 miles round-trip in coach class. If you are fully vaccinated and can resume domestic travel, award tickets at those prices are extremely attractive — but because they may not last long after the summer, we did not consider them representative of the average value of a mile.
With all of this in mind, we've calculated United Airlines MileagePlus miles to be worth 1.6 cents each.
How to Earn United Airlines Miles
There are several ways to earn United MileagePlus miles. This includes flying with United Airlines or its partners, and using the United Airlines shopping portal or the United Airlines dining program. You can also earn a good chunk of United miles by using co-branded credit cards, which we'll dive into below.
Best United Airlines Credit Cards
Like its competitors Delta and American, United offers co-branded credit cards that can help you earn even more miles. You can earn a lot of United MileagePlus miles if you take advantage of welcome offers and frequently spend in the eligible bonus categories.
Pro Tip
Shop online through United Airlines' shopping portal to easily earn miles at some of your favorite retailers.
A smart way to earn a lot of United miles right now is by applying for a credit card not carrying a United co-brand, but which earns points that can then be transferred to United. The Chase Sapphire Preferred, for example, currently offers a bonus of 60,000 Chase Ultimate Rewards points after spending $4,000 in the first three months of account opening — and those 60,000 Chase points can be transferred to United, even partially, to then redeem for free flights.
The caveat here is that you shouldn't spend money you wouldn't have spent using a debit card only to get a points bonus. The value of your points might be less than the interest you'd pay if you carried a balance on your card.
United Gateway℠ Card
The United Gateway Card is a no-annual fee credit card that comes with perks like 25% off in-flight United Airlines purchases and no foreign transaction fees. It earns 2x miles on United purchases and 2x miles on gas, local transit, and commuting.
You can earn 20,000 bonus miles after you spend $1,000 on purchases in the first 3 months your account is open.
United℠ Explorer Card
The United Explorer Card earns 2x miles on United purchases, plus on spending at restaurants and hotels, and one mile per dollar spent on everything else. You can earn 60,000 bonus miles after you spend $3,000 on purchases in the first 3 months your account is open.
The card carries a $95 annual fee waived the first year, but comes with additional perks such as a fee credit towards TSA PreCheck or Global Entry, 25% off in-flight United Airlines purchases, and your first checked bag free when flying on United Airlines.
United Quest℠ Card
With the $250 annual fee United Quest card, you can earn 80,000 bonus miles after you spend $5,000 on purchases in the first three months your account is open.
The card comes with additional perks such as $125 in United Airlines statement credits, 25% off in-flight United Airlines purchases, Global Entry/TSA PreCheck fee credit, priority boarding, and first and second checked bags free. You'll also earn 3 miles per dollar on all United Airlines purchases, 2 miles per dollar on travel, dining, and streaming, plus 1 mile per dollar on everything else.
United Club℠ Infinite Card
With the United Club Infinite card, you can earn 100,000 bonus miles after you spend $5,000 in your first three months. It earns 4 miles per dollar on United Airlines purchases, 2 miles per dollar on dining and travel and 1 mile per dollar on everything else.
It has a high $525 annual fee, but comes with membership in United Club airport lounges. It also offers free first and second checked bags, a Global Entry or TSA PreCheck credit and 25% off in-flight purchases on United Airlines.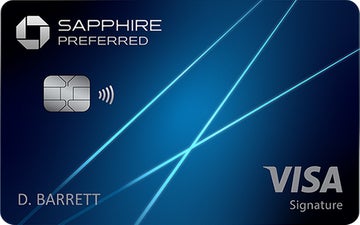 Chase Sapphire Preferred® Card
Intro bonus:

60,000 points

Annual fee:

$95

Regular APR:

15.99%-22.99% Variable

Recommended credit:

670-850 (Good to Excellent)

Apply Now

At Chase's secure site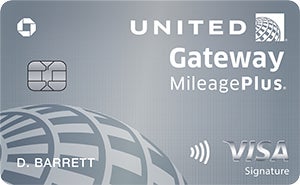 United Gateway℠ Card
Intro bonus:

20,000 Bonus Miles

Annual fee:

$0

Regular APR:

16.49% – 23.49% Variable

Recommended credit:

670-850 (Good to Excellent)

Learn more

At our partner's secure site