We want to help you make more informed decisions. Some links on this page — clearly marked — may take you to a partner website and may result in us earning a referral commission. For more information, see How We Make Money.
This page includes information about Discover products that are not currently available on NextAdvisor and may be out of date.
Discover APRs are accurate as of December 15, 2022.
If you're trying to get your first credit score, you might feel like you're stuck in a loop.
You need a credit history to establish a credit score, but you need a credit score to access credit and build a credit history. If that obstacle has left you without a credit score, you're not alone. Approximately 45 million adults are "credit invisible," meaning they either have no credit score or their files don't have enough information for a credit score.
While establishing good credit can be difficult, it's not impossible. If you use the tools available, you may be able to establish a useful credit score after about six months. Here's everything you need to know about getting a credit score after you open your first credit card.
What Happens to Your Credit Score After Opening a Credit Card?
If you've never borrowed money from a lender or used a credit card to make purchases, there may not be enough information in your credit report to generate a credit score. But when you start making (or missing) payments, your issuer might report to one or all of the three major credit bureaus.
So where exactly does your credit score come from? "Think about when you were in school and you did a paper," says Rod Griffin, senior director of public education and advocacy for Experian. "The paper is like the credit report, and the teacher is kind of like the lender, and they evaluate the information in the report and assign a grade. The grade is kind of like a credit score."
Now, imagine that you have hundreds of teachers evaluating the same paper, because you don't have just one credit score. Based on a variety of different scoring models, you have hundreds of different credit scores. Your FICO scores are the most important, however — they're used by 90% of top lenders to evaluate your creditworthiness.
You can expect to wait at least six months for a FICO score after opening your first credit card.
However, with new tools like Experian Go and Experian Boost, "We're able to capture those positive payments going back up to 24 months" to generate a credit score instantly, Griffin notes. Experian Go offers personalized tips for building your credit score, and Experian Boost lets you add your on-time payments to your Experian report. So if you've been paying your utility bills or streaming services on time, you may be able to get a credit score sooner. Keep in mind that your insurer or lender might use a different FICO score than the one Experian Boost raises.
Why You Need a Credit Score
"Having a credit report and credit score is really about having access to lower-cost, nonpredatory lending services and being able to really achieve your financial goals," says Griffin. Your credit score impacts your life in several ways:
Borrowing: "When you have a credit history, it helps you obtain things like mortgages and credit cards," says Griffin. Without a credit score, you'll find it much harder to get a loan for a home or vehicle.
Employment: "A lot of employers look at your creditworthiness as a sign of responsibility," says Bola Sokunbi, certified financial education instructor, author, and founder of Clever Girl Finance. Keep in mind that an employer can't actually see your credit score, but they can see some details on your credit report, including history of debt payments.
Insurance: Insurers use your credit-based insurance score to determine your premiums in most states, due to a correlation between poor credit and dollars paid on claims.
Renting an Apartment: Most landlords will run a credit check when assessing your rental application to make sure you are financially reliable.
Utility Costs: Your credit score can impact the connection fees or security deposit required to get utilities, as utilities are seen as a form of credit.
Convenience: "Every day we're leaning more and more towards a cashless society," says Sokunbi, noting that some retailers already do not accept cash. "In order to have a credit card, you need to have good credit."
Protections: You can get benefits such as travel insurance and fraud protection when you use a credit card — and you'll need a credit score to qualify for one, says Sokunbi.
How to Boost Your Credit Score
When your goal is to build credit, there are a few healthy habits that will help you succeed in raising your score:
Pay on Time: "Paying off your balance in full each month if you are able to or at least making on-time payments every single month" will help you maintain a good credit score, says Sokunbi.
Keep Your Balances Low: Always aim to keep your credit utilization ratio below 30%. If you need to, pay down your balance multiple times each month. And if your credit card issuer increases your limit, let them — but don't start spending more as a result.
Avoid Too Many Applications: "You don't want to take on a lot of new debt at once, or at all," says Griffin. Too many hard inquiries on your credit report makes it look like you're desperate for credit.
Use Credit-Building Tools: If you don't qualify for a credit card, try a credit-builder loan or consider becoming an authorized user on a friend or family member's account.
Pro Tip
You can use Experian Boost to get credit for your on-time telecommunication or utility payments.
How to Choose Your First Credit Card
When you're ready to get your first credit card, be aware that you may not have access to the best rates and terms. "Looking at interest rates, looking at how that interest is going to be compounded" will help you understand what it will cost to carry a balance, says Sokunbi. You'll also want to be mindful of any fees associated with maintaining the account.
When selecting a credit card, "You don't only look at the costs associated with that account, but also the benefits to you," says Griffin. Try to choose a card that aligns with your lifestyle. For example, if you're feeding a large family, choose a credit card that gets cash back on groceries. Or if you'll be traveling abroad, choose a card with travel insurance and no foreign transaction fees.
Best First Credit Cards
If you don't qualify for a traditional unsecured credit card, you may be eligible for a student credit card, which typically has looser credit requirements, or a secured credit card, which requires an upfront deposit. Even some unsecured cards are designed for people with no credit history to begin building credit, and can help you work toward a great credit score. Choose the best option available to you in terms of rates, fees, credit limit, perks, and rewards. Here are a few of our top picks.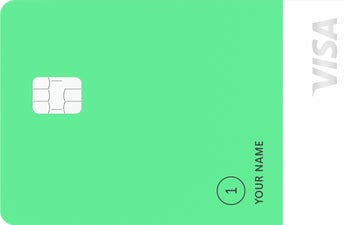 Petal® 1 "No Annual Fee" Visa® Credit Card
Intro offer:

N/A

Annual fee:

$0

Regular APR:

23.74% – 33.24% (Variable)

Recommended credit:

(No Credit History)

Apply Now

At Petal's secure site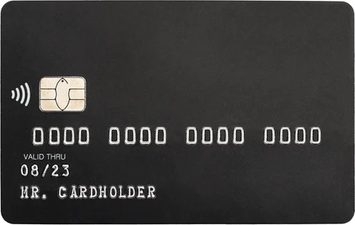 Discover it® Secured Credit Card
Intro offer:

Cashback Match™

Annual fee:

$0

Regular APR:

27.24% Variable APR

Recommended credit:

(No Credit History)
Petal® 1 "No Annual Fee" Visa® Credit Card issued by WebBank
Petal 1 Visa
The Petal 1 Visa is an unsecured credit card that you may be able to qualify for even with no credit history. Petal uses an alternative approval process, which evaluates more than just your credit score. Information like income and regular monthly payments can help determine your eligibility when you provide your bank account information with your application. It doesn't come with cash back on every purchase, but you can earn rewards at participating retailers. You can also qualify for a credit limit increase after six months of on-time payments. The variable APR is relatively high at 23.74% – 33.24%, but there are no annual fees or foreign transaction fees.
Capital One QuicksilverOne Cash Rewards Credit Card
The Capital One QuicksilverOne Cash Rewards Credit Card is an unsecured credit card that is available to folks with fair credit. It comes with a $39 annual fee, but you'll earn an unlimited 1.5% cash back on every dollar spent. Capital One also reviews your account for a credit line increase after the first six months. There are few other perks and the variable APR is relatively high at 29.74%, but it's a great starter card that gives you the opportunity to rack up some rewards. 
Discover it® Secured Card
The Discover it® Secured Card is unique because it offers 1% back on all purchases plus 2% back on your first $1,000 in combined purchases at gas stations and restaurants each quarter, whereas many secured cards don't come with a rewards program. The variable APR is relatively high at 26.74%, but there's no penalty APR. After To open an account, you'll need to make a refundable deposit between $200 and $2,500, depending on what you want your credit limit to be. And after just seven months, Discover will review your account to determine whether you're eligible to upgrade to an unsecured card account. It's a great way to get your foot in the door and start building credit.
All information about the Discover it Secured Credit Card has been collected independently by NextAdvisor and has not been reviewed by the issuer.