We want to help you make more informed decisions. Some links on this page — clearly marked — may take you to a partner website and may result in us earning a referral commission. For more information, see How We Make Money.
Instead of cash back, points, or miles, some new credit cards are offering cryptocurrency rewards on your spending.
Crypto credit cards are quickly becoming readily available to U.S. consumers — and their easy access to crypto may hold appeal for both existing crypto enthusiasts and crypto-curious investors looking to get into the market.
But even as these cards are becoming more common, they leave a lot to be desired when it comes to rewards value. Many offer only lukewarm rewards rates, and with the volatility of cryptocurrency, there's big potential opportunity cost in forgoing guaranteed points or cash back redemptions that come with regular old rewards cards.
In fact, many experts we've spoken to believe crypto cards have a long way to go before their value can match many cards on the market today. Before you decide to open a crypto credit card, make sure you understand how crypto credit cards work — and what risks you may be subjecting your wallet to.
Crypto Credit Cards Compared to Rewards Credit Cards
Crypto credit cards might be an attractive option for those already invested in crypto, or looking to dabble without much upfront cost — but they lack many of the benefits that make many top rewards cards so valuable.
Rewards credit cards often have numerous advantages over their crypto counterparts, including:
Welcome offers: Rewards credit cards often come with lucrative sign-up bonuses worth hundreds of dollars. Some offers can even have a value of more than $1,000. Few crypto credit cards offer any meaningful welcome offers.
0% APR introductory offers: Traditional credit cards can also be excellent tools for debt consolidation and financing big purchases, thanks to 0% APR offers on purchases and balance transfers. Crypto cards charge the same high ongoing interest rates as other credit cards, without any intro period for reduced interest.
Premium perks: Credit card perks like annual credits and status boosts, airport lounge access, and travel and purchase protections can provide great value to frequent travelers. You may find a few added benefits with crypto cards, but they won't be as comprehensive as some of the best rewards cards.
Guaranteed value: With a regular rewards credit card, you'll get guaranteed returns in the form of cash back, points, or miles. Crypto rewards are volatile at best, and your 2% return on spending could end up being worth much less by the time you cash in, depending on market fluctuations.
Benefits of Crypto Credit Cards
Crypto credit cards offer cryptocurrency rewards instead of traditional cash back, points, or miles.
For example, the Upgrade Bitcoin Rewards Card earns a flat 1.5% back in bitcoin. The BlockFi Rewards Visa® Signature Card offers the same 1.5% return on every purchase, but lets you redeem your rewards for several types of crypto.
Other crypto credit cards have tiered rewards structures. The Gemini Credit Card®, for example, earns 3% back on dining, 2% back on groceries, and 1% back on everything else, with the option to redeem rewards for any cryptocurrency available on Gemini.
Crypto credit cards can be a tool for those looking to get into crypto market, according to Ted Rossman, senior industry analyst at CreditCards.com. Like NextAdvisor, CreditCards.com is owned by Red Ventures. He compares investing only the rewards you earn with a crypto card to "gambling with house money."
"For a certain kind of person, they're looking for that upside … They want to get into crypto and they're banking on the fact that it's going to be worth more in the future."
Rossman adds that crypto credit card holders may also benefit from avoiding some fees crypto exchanges charge. "It actually could be a pretty practical way to enter the market," Rossman says. "That's kind of an underrated benefit of some of these cards."
Risks of Crypto Credit Cards
Najah Roberts, founder and CEO of Crypto Blockchain Plug, a cryptocurrency exchange and education center in Inglewood, California, loves earning rewards using her crypto credit cards. In about five months, she estimates she's earned over $400 back in bitcoin rewards.
At the same time, Roberts advises caution when using crypto credit cards, especially when it comes to crypto tax liability.
While you're not likely to pay taxes on your earned crypto rewards, you will pay when you cash in. When you sell a cryptocurrency that has appreciated, you'll be subject to the capital gains tax, or the difference between how much the coin was worth when you "bought" it with your rewards, and the selling price.
Points or cash back you earn with rewards credit cards on purchases you make, on the other hand, are rarely taxable.
Another major setback of crypto rewards is the potential value loss. Many crypto enthusiasts buy in for the potential to see their value skyrocket, but it's still a volatile asset and growth is anything but guaranteed.
In fact, the price of bitcoin has swung between $30,000 and $60,000 in just the past few months. If you had earned 1.5% back in bitcoin when the price was at $60,000 per coin, then decided to cash out when the price dropped to $30,000, you would have lost half the value of your rewards.
Rewards Credit Cards Still Offer More Value
Many experts we've spoken to about crypto credit cards remain skeptical on their value compared to rewards cards.
The main benefits of these cards are the option to earn rewards as crypto directly, forgoing the need to buy crypto with cash, and using them as a relatively low-risk way to get into crypto investing. With less lucrative rewards, fewer added benefits, and lack of welcome bonuses or intro offers, you'll still get much more value from many of the best credit cards on the market today than you will with a crypto card.
Pro Tip
Another crypto-adjacent credit card option is a card like the SoFi Credit Card or Venmo Card, which earn rewards as cash back, but offer crypto as one of several redemptions. That way, you can dabble in crypto rewards, but also have the flexibility to choose cash back or statement credits, too.
If you're really interested in crypto, you might be better off opening a rewards card that aligns with your spending habits and budget, and then use your rewards to invest in cryptocurrency. You'll still be subject to the ups and downs of the crypto market, but you might earn a better rewards rate on your spending, and be able to take advantage of other benefits of more general rewards cards.
Plus, you'll still have the option to redeem your rewards as a statement credit or put them toward future travel, if you change your mind.
Editorial Independence
As with all of our credit card reviews, our analysis is not influenced by any partnerships or advertising relationships.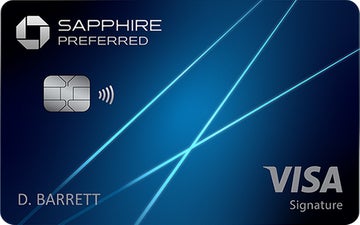 Chase Sapphire Preferred® Card
Intro offer:

60,000 points

Annual fee:

$95

Regular APR:

19.74% – 26.74% Variable

Recommended credit:

670-850 (Good to Excellent)

Apply Now

At Chase's secure site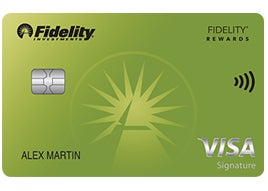 Fidelity® Rewards Visa Signature® Card
Intro offer:

N/A

Annual fee:

None

Regular APR:

13.99% Variable

Recommended credit:

740-850 (Excellent)

Learn more

At our partner's secure site See Rates & Fees, Terms Apply.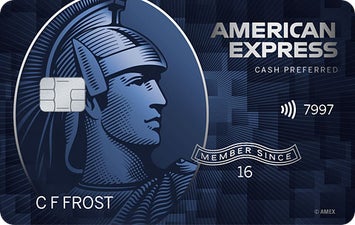 Blue Cash Preferred® Card from American Express
Intro offer:

$250

Annual fee:

$0 intro annual fee for the first year, then $95.

Regular APR:

17.74%-28.74% Variable

Recommended credit:

670-850 (Good to Excellent)

Learn more

At our partner's secure site See Rates & Fees, Terms Apply.
The Future of Crypto Credit Cards
As public interest around crypto continues to grow, crypto credit cards are likely here to stay. Many crypto cards on the market have only been around for a year at most, which means there's plenty of room for growth in the future.
Roberts is "optimistically cautious," but advises cardholders do their due diligence. "I'm on my anticipatory tiptoes to see how these companies can help the average everyday consumer," she says.
And if crypto markets continue to grow alongside, there could be even more flexible ways to incorporate cryptocurrency into our spending. While it's not a good idea to spend your bitcoin as cash today, that may add another unique offering to crypto credit cards in the future.
Rossman is curious to see whether there will be crypto credit card products in the U.S. that allow spending crypto directly, besides just earning crypto rewards.
"I think they need to make it easier and more accessible," he says. "So you wouldn't really sell stocks every time you were making a small purchase. That's just very confusing."