We want to help you make more informed decisions. Some links on this page — clearly marked — may take you to a partner website and may result in us earning a referral commission. For more information, see How We Make Money.
Terms apply to American Express benefits and offers. Enrollment may be required for some American Express benefits and offers. Visit americanexpress.com to learn more.
The time for a good spring cleaning is approaching, and one of the things I want to put in order this spring is my roster of credit cards. Before the pandemic, I traveled often enough that I held the top co-branded cards for the three largest U.S. international airlines: American, Delta and United. That cost me $1,500 in annual fees, but the cards' combined perks and benefits provided me enough value to offset that large number.
That is no longer the case.
Even with vaccines rolling out to more and more Americans, and airlines reporting growing traffic, I'm not ready yet to travel like I used to, especially outside the U.S. So it's time to cull the cards that no longer serve my purposes, and the first one to go this year will be the premium co-branded American Airlines card, the Citi® / AAdvantage® Executive World Elite™ Mastercard®*. Its $450 fee, in exchange for benefits like access to American's Admirals Club airport lounges and free checked luggage on the airline, doesn't make sense for me in 2021. 
Here's how I plan to get rid of that fee while minimizing any impact to my credit score, and how you can do it too if you have a high-fee card.
The card's yearly fee comes due in July, and I have two options before then: I could cancel the card outright, or I could downgrade it to a Citi card with a smaller fee — or even to one with no fee at all.
Canceling would be a bad idea: closing a credit card account can result in a hit to your credit score. That's because the credit line associated with that account forms part of your overall credit, and if you close it, then you raise your credit utilization ratio: You are using more of the credit you have available. That applies even if you pay all of your card balances in full every month, since card issuers may report a balance to the credit bureaus before you pay it off.
Pro Tip
If you're thinking of canceling a card because it has an annual fee, call the issuer first and ask if they might reduce or even eliminate the fee in exchange for you keeping the card.   
So I'm going to downgrade the card instead.
I've had the Executive World Elite card since June 2019 (I don't think I've ever said its entire, impossibly lengthy name in all this time.) Keeping a high-fee rewards card for less than a year signals to the issuer that you may have signed up only to get the initial bonus, with no intention of becoming a loyal, and lucrative, customer. Credit card companies have been known to crack down on that behavior, sometimes even clawing back bonus miles or points. After almost two years, I'm safe from Citi wanting back the 65,000 American Airlines miles I got as a bonus.
The caveat here is that you can downgrade — or upgrade, for that matter — only within the same family of cards. Citi offers a lot of different credit cards, but I can make this move only within its family of American Airlines co-branded cards; I can't switch to the Citi Premier® card*, for example. I can only choose one of the other two Citi consumer cards that earn American Airlines miles.   
So I will call the number on the back of my existing card and explain that I want to downgrade it to the American Airlines AAdvantage MileUp℠ Card*, with an annual fee of $0. It will still earn me two miles per dollar if I happen to buy an American Airlines ticket, and it will keep my account alive, helping my credit history.   
But why didn't I downgrade earlier, before last year's fee hit in July of 2020? After all, I wasn't flying then, either.
That's because Citi, recognizing that it had to do something to prevent a mass exodus from its top airline card, gave all cardholders an automatic $225 credit when their fee hit, halving the card's cost. On top of that, I called Citi to ask if they could do something more than that to convince me to keep the card, and I got an extra $100 credit. That reduced my cost to hold the card last year to $125, low enough to persuade me to keep it, wait, and see.
Our Choice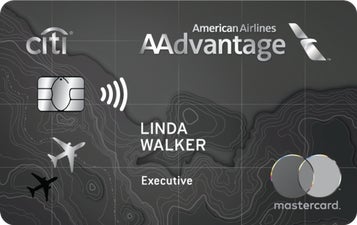 Citi® / AAdvantage® Executive World Elite Mastercard®
Editor's Score:
(3.275/5)
Intro offer:

80,000 miles

Annual fee:

$450

Regular APR:

19.74% – 28.74% (Variable)

Recommended credit:

670-850 (Good to Excellent)

Learn more

At our partner's secure site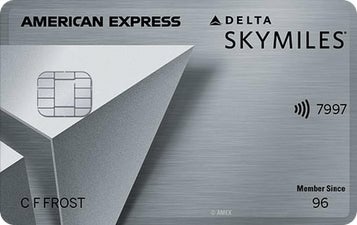 Delta SkyMiles® Platinum American Express Card
Intro offer:

50,000 miles

Annual fee:

$250

Regular APR:

19.49%-28.49% Variable

Recommended credit:

670-850 (Good to Excellent)

Learn more

At our partner's secure site See Rates & Fees, Terms Apply.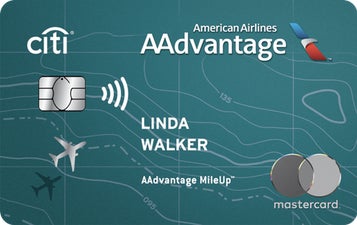 American Airlines AAdvantage MileUp℠ Card
Intro offer:

10,000 miles

Annual fee:

$0

Regular APR:

19.74% – 28.74% (Variable)

Recommended credit:

670-850 (Good to Excellent)

Learn more

At our partner's secure site
So much of choosing a favorite airline has to do with where you live. With travel this year still greatly reduced, I am focusing my flying on Delta, the biggest airline at both of my home airports, New York's JFK and LaGuardia. That way, I will keep my elite status with the airline I fly most often, which will result in more upgrades down the line. And I'll concentrate my spending for co-branded airline cards on American Express Delta Air Lines cards, like the Delta SkyMiles Platinum, earning more Delta miles for free travel in the future.
When travel really does return in earnest, I might fly American often enough to warrant paying a fee again to hold one of its co-branded cards. I haven't soured on travel cards at all; some of them can provide great value even when travel is paused. For now, though, there's no way it makes sense to spend money to hold a card with airline-specific benefits I won't use. So long, Executive World Elite — it's been real, and maybe see you on the other side of this. 
*All information about theCiti® / AAdvantage® Executive World Elite Mastercard®, American Airlines AAdvantage MileUp℠ Card and Citi Premier® Card has been collected independently by NextAdvisor and has not been reviewed by the issuer.