We want to help you make more informed decisions. Some links on this page — clearly marked — may take you to a partner website and may result in us earning a referral commission. For more information, see How We Make Money.
One of the most efficient ways to earn a lot of credit card points quickly is through a card's sign-up bonus, also known as a welcome offer.
It's also one of the fastest ways to rack up debt, if you spend without keeping a budget.
Take the Chase Sapphire Preferred, for example; it currently has one of the best credit card sign-up bonuses on the market. With it, you can earn 60,000 bonus Chase points if you spend $4,000 in the first three months from opening the account. With 60,000 Chase points, you can do a lot of fun things, including flying for almost free paying only taxes and fees—but only if you avoid overspending to get them.    
"It does no good for you to spend $4,000 chasing after that 60,000 bonus points and not pay your card off every month — and this is any card, not just the Chase Sapphire Preferred," says Benét Wilson, senior credit cards editor at The Points Guy, which like NextAdvisor is owned by Red Ventures. "When you start paying interest on a credit card, you're losing the value and it makes the bonus much less attractive."
Meeting the minimum spend for a credit card sign-up bonus can feel like a lot of money, especially in a short amount of time, but it's doable as long as you're planning ahead. These tips can keep you accountable while you're trying to reach that goal.
Have a Budget
First off, lay all your finances out on the table. Take stock of your income and expenses; the goal is to make more than you spend, and knowing where you're at is the first step to getting to where you want to be. If you're stuck, we have tips on how to make a budget.
"You really shouldn't have a credit card if you don't have a budget, otherwise you'll overspend because you don't know where or how much you spend," says Beverly Harzog, a credit card expert and consumer financial analyst for U.S. News and World Report.
As part of your budget, make a plan for your credit card use. Start by establishing what types of purchases you plan to charge to your credit card to meet the sign-up bonus and how much you can afford to spend every month on the credit card.
Pro Tip
If you have a big purchase coming up that you've already budgeted for, consider putting it on a credit card to help meet the bonus requirements—if you can pay it off right away.   
You can be strategic by using the card for specific purchases that maximize your rewards. With the Chase Sapphire Preferred, for example, you rack up two points for every dollar you spend on travel and dining.
Track Your Credit Card Spending
Once you have a budget, keep a close eye on your credit card spending during the sign-up bonus period.
"It's very easy to overspend when you're chasing a sign-up bonus, and that can lead to debt," says Harzog. "You could not only wipe out the value of the bonus points, but you could end up carrying a balance on a credit card that has a pretty high APR."
The key to meeting a card's sign-up bonus requirement without overspending is charging only what you can pay off and making your credit card payments on time.
If you go a little overboard or notice any unhealthy spending habits, take note of it and hold yourself accountable to avoid repeating it again in the future. Many credit cards let you set balance and spending alerts on your phone, which can make you more aware of exactly where your money is going.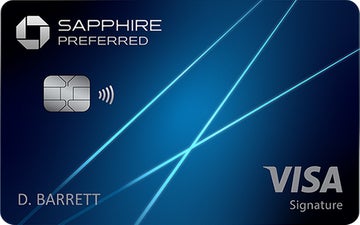 Chase Sapphire Preferred® Card
Intro offer:

60,000 points

Annual fee:

$95

Regular APR:

20.24% – 27.24% Variable

Recommended credit:

670-850 (Good to Excellent)

Apply Now

At Chase's secure site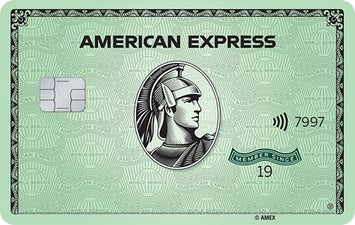 American Express® Green Card
Intro offer:

45,000 points

Annual fee:

$150

Regular APR:

20.24% – 27.24% Variable

Recommended credit:

670-850 (Good to Excellent)

Learn more

At our partner's secure site
Use Your Credit Card For Things You Would Have Purchased Anyway
If you're trying to meet the spending requirement for a credit card's sign-up bonus, a good rule of thumb is to use the card for purchases you would have made anyway paying with cash.
That way, you can afford to pay your balance in full each month, and you're never forced to carry credit card debt at a high interest rate.
For example, you can pay some of your bills using your credit card and pay the balance off immediately, or pick up the tab when dining out with friends and have them give you cash or send funds via an online service like PayPal or Venmo.
"Do an inventory of your budget and see where you can use that card to pay for certain expenses for the next three months," says Harzog. "At the end of the three months once you've earned the bonus, go back, look at your budget again and decide if you need to massage those numbers a little. Maybe you decide that you're not going to put groceries on that new card anymore."
Spread Your Purchases Over the Bonus Period
You could make large purchases you had been planning with a credit card if you know they put you closer to earning a sign-up bonus. But experts recommend making smaller, everyday purchases and spreading it over the bonus period to make your payments more manageable.
"With the Chase Sapphire Preferred, you can meet the sign-up bonus if you spend a little under $1,500 a month," says Wilson. "If you think of all your expenses, it can add up pretty quickly."
If you decide to make a larger purchase, try to charge it at the beginning of your credit card cycle. That gives you more time between your statement's closing date and the due date to pay that higher balance off.
Keep in mind that even if you pay your balances off every month, a balance could be reported to the credit bureaus before you pay, affecting your credit score. That's because the credit utilization ratio—or how much of your available credit you're using—is a big component of your credit score. Credit agencies like to see it below 30%.
"Don't think you have to spend $4,000 in two weeks. You can spread it out, so it doesn't impact your credit score as much," says Harzog. "If you try to put too many expenses on your card all at once, you can get above that 30% utilization ratio and that can lower your score. I suggest patience."
Pay Off Your Credit Card Balance Every Month
A typical credit card balance costs $84 per month in interest, according to the Federal Reserve's most recent Survey of Consumer Finances. If you pay only the minimum amount of your credit card balance each month, you could end up paying much more interest charges than the original balance. That's money you could be using for other things, such as saving for a house, investing for retirement or building an emergency fund. 
The first commandment of credit cards " is 'thou shall pay off thy bill every month,'" says Wilson. "If you're going to start with a card or want a Chase card, the Sapphire Preferred's $60,000-point bonus makes it a no brainer, but only if you're going to pay it off every month."