We want to help you make more informed decisions. Some links on this page — clearly marked — may take you to a partner website and may result in us earning a referral commission. For more information, see How We Make Money.
In the world of premium rewards travel cards, two names reign supreme: The Platinum Card® from American Express and the Chase Sapphire Reserve®. They each offer a variety of travel perks, ranging from lounge access to airline and hotel credits and plenty of other benefits.
And with the pandemic decimating travel, they both have had to adapt, making some of those perks attractive to users who were stuck at home and might have found the cards' high annual fees hard to justify.
Pro Tip
Use pandemic-related credit card perks to offset the cost of the annual fee, such as the new Uber Eats Pass membership on the Amex Platinum card.
That means both cards have managed to remain viable options even as travel has dried up, with perks that can offset the cost of their $550 fees if you use them wisely.
But with that said, is either one right for you? One of the most common questions more advanced credit card users ask is, "Should I get the Chase Sapphire Reserve or Amex Platinum?"
The answer is that there's really no right answer. The "best" credit card is the one that helps you achieve your personal finance goals, and offers the most value for your purposes. And with either one, you would have to exercise the same financial discipline, making sure that you pay your balance off every month in order to avoid paying the hefty interest that credit cards charge.
To help you choose between the two, we're diving into how these cards stack up against each other. We'll take a closer look at their pros, cons and overall benefits, to help you determine if either of these $550 cards is the best fit for your needs.
Chase Sapphire Reserve vs. Amex Platinum at a Glance
These two premium cards share some similarities, but differ greatly when it comes to the perks they offer. Here's how they measure up against each other in terms of bonus points, welcome offer and notable benefits.
| | Amex Platinum | Chase Sapphire Reserve |
| --- | --- | --- |
| Annual Fee | $550 | $550 |
| Welcome Offer | 75,000 Membership Rewards points after you spend $5,000 in the first six months from account opening | 60,000 Ultimate Rewards points after you spend $4,000 in the first three months from account opening |
| Bonus Points | 10x at U.S. supermarkets and gas stations (new cardmembers only); 5x on flights booked directly with airlines or at AmexTravel.com; 1x on everything else | 10x on Lyft rides; 3x on travel and dining; 3x on groceries (for the first $1,000 each month, through April 30, 2021); 1x on everything else |
| Credits | Up to $200 airline incidental fee credit; up to $200 Uber credit; 12-month complimentary membership to Uber Eats; $100 Saks Fifth Avenue Credit | $300 travel credit (valid also for gas station and grocery store purchases through June 30, 2021); $60 in DoorDash credits; Complimentary DoorDash DashPass membership; $120 in Peloton membership credits |
| Travel Perks | American Express Global Lounge Collection access; Delta SkyClub access; Gold Status with Hilton and Marriott; up to $100 Global Entry/TSA PreCheck credit, every 4 years | Priority Pass Select membership; Lyft Pink status; up to $100 Global Entry/TSA PreCheck credit, every 4 years |
The Platinum Card®️ from American Express
The Amex Platinum Card is primarily designed for frequent travelers that can regularly use the travel perks such as lounge access, Uber credits, and more.
With non-essential travel largely paused because of the pandemic, American Express has introduced a huge bonus to entice new customers: the Amex Platinum rewards new cardmembers with 10 points per dollar spent on groceries and at gas stations. That compares to 3x points from the Chase Sapphire Reserve on just groceries — but the Reserve lets you, for a limited time, redeem points against the cost of those groceries, not just for travel.
Clearly, Amex is betting that people who won't travel now but will in the future are still going to get this expensive card, earn a vast amount of points for everyday spending during the pandemic, and use them for travel when that becomes normal again.
Here are some of the most notable benefits that can help you save money on travel and more:
$200 in annual Uber credits ($15 per month, $20 in December)
$200 in airline incidental credits, such as for checked baggage or change fees
12-month complimentary Eats Pass, helping you save up to $120 per year on Uber Eats
$100 credit to Saks Fifth Avenue ($50 every six months per calendar year)
Lounge access, including Amex Centurion Lounges and Delta SkyClubs (when flying Delta same-day)
Secondary car rental insurance
Trip delay insurance
Trip cancellation/interruption insurance
Global Entry Credit every four years, or TSA PreCheck credit every four and a half years (only one of the two, but Global Entry also includes TSA PreCheck)
Access to Amex Fine Hotels & Resorts Collection
The Chase Sapphire Reserve®️
Similarly to the Amex Platinum card, the Chase Sapphire Reserve is also geared towards frequent travelers. Like the Amex Platinum, the Reserve introduced new, temporary perks — such as 3x bonus points on groceries — in the wake of the pandemic, but it also made those points useful for something that's not future travel.
Until April 30, Chase Ultimate Rewards points can be redeemed to offset grocery store and dining purchases, at a value of 1.5 cents per point. That's less than the 2 cents per point you would get when redeeming for travel, but while very few people are traveling it's a useful addition to the card.
Here's a closer look at some of the card's top perks:
$300 travel credit (can be used for airfare, hotels, trains and more, and until June 30 also for grocery store and dining purchases)
Membership in Lyft Pink, the rideshare app's priority level which includes a 15% discount on rides. You'll also earn 10x Ultimate Rewards points per dollar spent on Lyft rides
Complimentary DoorDash DashPass membership plus $60 credit in 2021
$120 Peloton credit
Priority Pass Select membership, providing access to Priority Pass lounges at airports worldwide plus a $28 credit per visit at participating airport restaurants worldwide
Primary car rental insurance
Trip delay insurance
Trip cancellation/interruption insurance
Baggage delay insurance
Emergency medical and dental insurance
Up to $100 Global Entry or TSA PreCheck credit once every four years
Access to Luxury Hotel & Resort Collection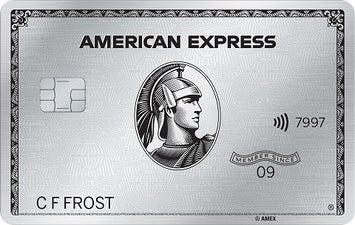 The Platinum Card® from American Express
Intro bonus:

75,000 points

Annual fee:

$550

Regular APR:

See Pay Over Time APR

Recommended credit:

670-850 (Good to Excellent)

Learn more

at our partner's secure site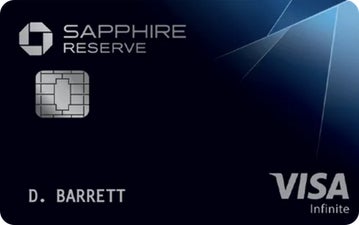 Chase Sapphire Reserve®
Intro bonus:

60,000 points

Annual fee:

$550

Regular APR:

16.99%-23.99% Variable

Recommended credit:

740-850 (Excellent)

Learn more

at our partner's secure site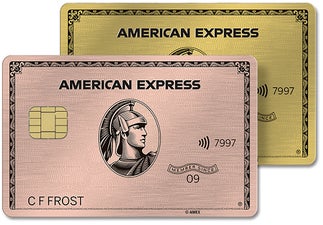 American Express® Gold Card
Intro bonus:

60,000 points

Annual fee:

$250

Regular APR:

See Pay Over Time APR

Recommended credit:

670-850 (Good to Excellent)

Learn more

at our partner's secure site
How to Decide Between the American Express Platinum and Chase Sapphire Reserve
We understand choosing between one of these two cards can be a big decision. The good news is that you can't really go wrong with either — as long as you plan to use the card and its perks regularly, you will likely more than make up for the hefty annual fee.
Since they both have identical annual fees, you can remove that factor from the equation. Here are some other potential factors to consider, though.
Lounge Access
Do you fly Delta Air Lines frequently and want access to its swanky SkyClubs? Or want to relax in an Amex Centurion Lounge — an even more posh option, at least in the 14 airports that currently have them? If that's the case, you'll be better off with the Amex Platinum.
Conversely, if you value Priority Pass membership — restaurants included — more, the Chase Sapphire Reserve will likely be a better pick. Priority Pass lounges are in general less luxurious than SkyClubs or Centurion Lounges, but they are found in far more locations, especially outside the U.S.
Transferring Points to Airlines and Hotels
With both cards, you'll earn what's known as "transferable points," meaning points that you can transfer to hotels and airlines to use for free travel. Amex points are called Membership Rewards points, and Chase points are called Ultimate Rewards points.
Each issuer has a handful of "transfer partners," as in hotels or airlines that you can transfer those designated points to. For example, you can transfer Amex Membership Rewards points to Delta and Marriott, and you can transfer Chase Ultimate Rewards points to United and Hyatt. If you intend to fly on a specific airline or stay at a specific hotel, make sure that it's a transfer partner of the card you choose.
Both cards also give you access to what's known as travel portals, where instead of transferring points to an airline or hotel, you can redeem them directly through the card issuer's site. It's relatively easier than transferring, but you'll usually get somewhat less value out of your points by doing this.
Travel Credits
Both cards come with travel credits that you can use to help offset the cost of a future trip.
In this case, the Chase Sapphire Reserve takes the cake. Its $300 travel credit can be used broadly — towards hotels, airfare and even train tickets, and, until June 30, at grocery stores and gas stations.
Conversely, the Amex Platinum $200 airline credit is much narrower. You can only use it on incidental charges, such as checked bag fees. It doesn't count for airfare. You'll also have to pre-select the airline you want to use the credit on.
Food Delivery Benefits
Each card comes with some complimentary food delivery credits and perks, which can be a great way to save money when ordering takeout or delivery.
With the Amex Platinum card, you'll receive a complimentary Uber Eats Pass, worth up to $120 per year. With this, you'll get 5% off and $0 delivery fees on eligible orders over $15. Depending on where you're located, you can also get $0 delivery fees on eligible grocery deliveries over $30. The $200 yearly Uber credit can also be applied to Uber Eats orders, as well, making this another way to see those savings add up.
Chase Sapphire Reserve cardholders, on the other hand, will get a complimentary DoorDash DashPass membership as well as $60 worth of credits in 2021. With the DashPass membership, you'll get $0 delivery fees and reduced service fees on all eligible orders over $12.
Lifestyle Perks
Both cards also offer cardholders a range of lifestyle perks: the Amex Platinum comes with a $100 Saks Fifth Avenue credit ($50 every six months per calendar year), and the Reserve comes with $120 in Peloton credits that you can put towards a membership.
Depending on your lifestyle habits, this is another important factor to consider.
Credit Card Offers
While this isn't listed as an official benefit, with the Amex Platinum, you'll get access to the Amex Offers program. Here, you can get discounts (or bonus points) to some top retailers such as Net-a-Porter, Neiman Marcus, Glossier and more.
Chase also has a similar program, but its offers are far fewer than Amex's robust program.
Why the Amex Platinum Card Is My Choice
Like we've said throughout this story, there is no "best" or even better card — it's all about which card is best or better for you. Both cards offer strong benefits, especially within the travel space, and are very solid picks for advanced credit card users looking for more perks and benefits out of their cards.
I personally have both cards and use them fairly regularly, especially before the pandemic. Before last year, I was traveling pretty regularly and used perks from both cards, such as lounge access, travel credits and more. In fact, I found the cards actually complemented one another pretty nicely.
If I could only choose one, however, I'd go with the Amex Platinum.
I use Amex Offers frequently, so being able to save on everyday purchases is a strong selling point for me, since it really helps offset the $550 annual fee.
Although I haven't been on a plane since January 2020 and it will likely be a few more months until I do, the Platinum will help me with that when it's time to board a plane again.
I tend to fly Delta more than other airlines, at least domestically. That's part of why I prefer using American Express Membership Rewards points for travel. I can easily turn those points into Delta's own SkyMiles to book free travel; I could not do that with Chase, which does not transfer points to Delta.
Although the Platinum's $200 airline incidental credit is smaller in amount and narrower in scope than the $300 travel credit from the Reserve, I still find ways to maximize it. For example, one of my favorite ways is using it to cover award fees on Delta Air Lines flights when I book using SkyMiles.
Having access to both Delta SkyClubs (when flying Delta) or Amex Centurion Lounges is another major benefit for me, one that will make travel more pleasant once it's safe to do so freely.
I also like having access to the Fine Hotels & Resorts program — I get complimentary breakfast, free upgrades (when available) and even late checkout, depending on availability. I've also found that the hotels participating in this program are more in line with my preferences than the ones in the Chase Luxury Hotel & Resort Collection.
I do order takeout and delivery fairly often, and although I try to order directly when I can to support restaurants, services such as Uber Eats offer good discounts. My complimentary Eats Pass lowers fees on my orders, and in addition to the $15 per month I get as a perk of the card, I'm able to significantly reduce the cost of some of my orders.
I also shop online a lot, and there are few things I love more than a good deal. Like I said, I regularly use Amex Offers to get even more savings on my purchases. I also use the Saks credit to discount purchases even further — and combine that with the cash back I can get from sites like Rakuten to maximize savings.
Of course, these strategies make sense for people who tend to travel more often than the average, and these cards are aimed squarely at frequent travelers, even though they've adjusted their perks to remain appealing during the pandemic.
But keep in mind that, while the $550 fee for the American Express Platinum or the Chase Sapphire Reserve is steep, it could make sense for you if you are able to extract more value from either card than the admittedly high cost of having it in your wallet.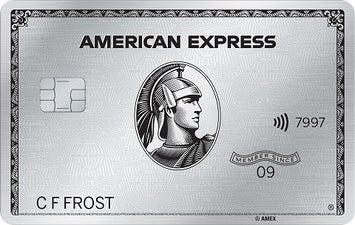 The Platinum Card® from American Express
Intro bonus:

75,000 points

Annual fee:

$550

Regular APR:

See Pay Over Time APR

Recommended credit:

670-850 (Good to Excellent)

Learn more

at our partner's secure site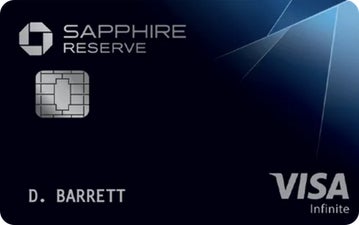 Chase Sapphire Reserve®
Intro bonus:

60,000 points

Annual fee:

$550

Regular APR:

16.99%-23.99% Variable

Recommended credit:

740-850 (Excellent)

Learn more

at our partner's secure site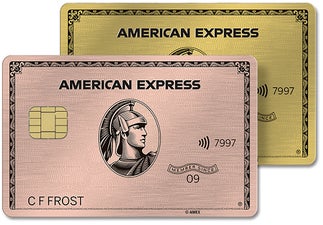 American Express® Gold Card
Intro bonus:

60,000 points

Annual fee:

$250

Regular APR:

See Pay Over Time APR

Recommended credit:

670-850 (Good to Excellent)

Learn more

at our partner's secure site