We want to help you make more informed decisions. Some links on this page — clearly marked — may take you to a partner website and may result in us earning a referral commission. For more information, see How We Make Money.
Getting extra money is one of the best feelings in the world — and earning cash back rewards from your credit cards is no exception.
When you use your credit cards responsibly — which means paying your balance in full and on-time each month — cash back can be a great tool to earn rewards on your everyday purchases. Americans spend an average of $4,874 on their credit cards each month, according to data from Personal Capital. If you earned an average of 2% cash back on all purchases, that would add up to about $1,170 in cash back rewards in a year.
And what can those rewards be redeemed for? Everything from gift cards to your favorite retailer, free money in your bank account, to even a discounted vacation — simply for purchasing the everyday goods and services you were going to buy anyway.
You don't want to miss out on the opportunity to earn cash back on your credit card spending. Here's everything you need to know about how cash back credit card rewards work, how you can maximize them, and the best cash back credit cards that give you the most bang for your buck.
What Are Cash Back Credit Card Rewards?
"Cash back rewards come in the form of either dollars or points from credit card companies or banks for using their products," says Grant Sabatier, author of the international bestselling book "Financial Freedom" and co-founder of BankBonus.com.
"You can think of [cash back as] essentially like a bonus that's paid back to customers when they make purchases using their credit card," says Maya Nijhawan, credit card expert and co-founder and CMO of financial app Finch. "That cash back reward is usually a percentage of the amount that's spent."
While some cards may reward their users with direct cash back deposited into the user's account, others may offer point rewards with multiple redemption options. Points ​​work just like cash back and are usually redeemable for an exchange rate around 1 cent per point, though the exact redemption options may vary by issuer. So, 100 points is often equal to about a dollar.
Points can generally be redeemed for cash back, but also for other options like gift cards or free travel. Typically, cardmembers can book travel directly through the credit card issuer's online portal or transfer their points to airline or hotel partners. "One of the best ways to maximize the use of cash back points is, if you're into travel, actually transferring those points to the airline where you want to book the flight," says Sabatier.
How Does Cash Back Work?
Typically, you earn cash back whenever you make purchases with a credit card. Some cards may offer an additional welcome offer where you can earn an extra cash bonus or additional points if you meet certain purchase requirements within a set timeframe.
There are generally three ways to earn cash back rewards from your spending, according to Sabatier: a flat rate on all purchases, tiered rewards categories, and rotating rewards categories.
Flat-rate cash back cards offer a percentage of your purchases back as cash to your card balance or to your bank account. For example, if you spend $1,000 on a card with a 2% flat cash back rate, you'll earn $20 regardless of what type of purchases you made.
Meanwhile, a credit card with fixed tiered rewards might offer 3% cash back on dining, 2% cash back on gas, and 1% cash back on everything else. These cards tend to offer a higher rewards rate than flat-rate cash back in specific categories, but a lower rate on purchases that don't fall into one of the elevated rewards categories.
Cards with rotating rewards categories work similarly to fixed tiered rewards cards, except that the categories that offer an elevated rewards rate change regularly. For example, a card might offer 5% back at grocery stores during the first quarter of the year and 5% back at home improvement stores during the second. You sometimes have to opt in to each rotating rewards category every time it switches.
If you have a cash back card with rotating rewards categories, "what can sometimes be beneficial is to go on [your card issuer's] website and look at the rewards calendar," says Nijhawan. "Oftentimes [the issuer will] publish things well ahead of time. That can give you the opportunity to plan out your purchases in advance so you can maximize your rewards."
Combining Cash Back Rewards Cards
It can be a good idea to combine multiple cash back credit cards and use them for different spending categories. You might have one card that earns cash back rewards on travel and one that earns cash back on groceries, for example.
"I think it's really helpful to have what I call a 'when in doubt' card," Nijhawan says. "This is the card that has the highest cash back rate on all other purchases. And that way, if your spending doesn't fit into a specific higher earning category on your card, you can still rest assured that your spending is still earning the highest rewards possible."
The best way to maximize your rewards would be to make sure the card you're signing up for offers a rewards program that matches your spending behavior and your lifestyle while complementing the other cards you have in your wallet. For example, you wouldn't want to have three cash back cards with dining-focused rewards structures if you never eat out. Make sure you use cards that will actually reward you for your everyday spending.
Many rewards credit cards come with an annual fee, which is important to factor in when you calculate the value of the rewards you'll earn in a year. If you expect to earn $30 per month in rewards, for instance, be sure to subtract the annual fee from your yearly projection. Some annual fee cards may offer additional benefits or a high sign-up bonus that offset the cost, but there are also many cards that offer great rewards and perks with no annual fee.
How Do I Use and Redeem Cash Back Rewards?
To redeem your cash back rewards or points, you usually have a few options:
Statement credit — the cash back you earn will be credited to your account as a statement credit, reducing your next credit card bill.
Bank account deposit — the cash back you earn will be deposited into your bank account as cash.
Gift cards — you can redeem your cash back or points as gift cards to a variety of merchants. The exact selection will depend on your specific credit card issuer's rewards program.
Travel and experiences — some issuer rewards programs let you use your points to book travel (including airfare, hotels, rental cars, and more) and experiences directly through their own portal. Others may let you transfer your points to the rewards programs of partner airlines or hotel chains.
While redemption options vary by issuer, here are the general steps you should follow to redeem your rewards:
Check your rewards balance by logging into your account on your credit card issuer's website.
Click into the rewards redemption portal and review the options available to you. These might include statement credit, gift cards, direct deposit, or booking travel.
Calculate which redemption option will get you the most value for your points. For instance, Chase Ultimate Rewards points tend to be worth more when you book travel through the Chase Portal, as opposed to applying the points towards your balance. The difference in conversion rate is about 1.25 to 1.5 cents for each point, compared to 1 cent per 1 point.
Redeem your rewards for the option that's most valuable to you based on your needs.
Are Cash Back Rewards Taxable?
In most cases, credit card cash back rewards are not taxable, since you have to spend money to get the rewards.
"The IRS actually views [cash back rewards] as a coupon or a rebate," says Sabatier. This applies to both regular rewards and sign-up bonuses that require you to meet a certain spending threshold.
"What does count [as taxable income] is if you get a bonus for doing nothing," Sabatier adds. For example, if you get extra points for referring a friend but you didn't have to spend anything to earn those rewards, you would need to pay taxes on those earnings. For more information, read about when credit card rewards are taxable.
Best Credit Cards for Cash Back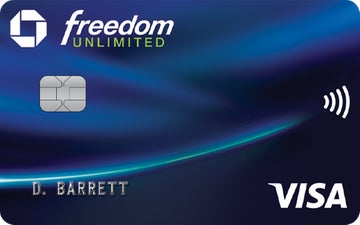 Chase Freedom Unlimited®
Intro offer:

Earn an Additional 1.5% Cash Back

Annual fee:

$0

Regular APR:

19.24% – 27.99% Variable

Recommended credit:

670-850 (Good to Excellent)

Apply Now

At Chase's secure site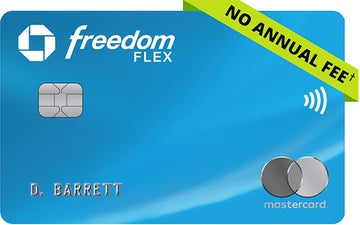 Chase Freedom Flex℠
Intro offer:

$200

Annual fee:

$0

Regular APR:

19.24% – 27.99% Variable

Recommended credit:

670-850 (Good to Excellent)
The Chase Freedom Unlimited credit card offers a tiered rewards system with 5% back on travel booked through Chase Ultimate Rewards®, 3% back on dining, delivery, and drugstore purchases, and 1.5% back on all other purchases. With a strong overall rewards rate and boosted rewards in select categories, this card can pull double duty as your everyday spending card and your dining card. There's also a welcome offer where you can earn an additional 1.5% back on everything you buy (on up to $20,000 spent in the first year) — a bonus worth up to $300. This card has no annual fee.
The Chase Freedom Flex credit card offers a hybrid between a tiered rewards system and a rotating categories system. Like the Chase Freedom Unlimited, this card earns 5% back on travel booked through Chase Ultimate Rewards and 3% back on dining, delivery, and drugstore purchases. But instead of a flat 1.5% back on all other purchases, you'll get 5% back in eligible spending categories each quarter (on up to $1,500 in purchases) as well as 1% back on everything else. This card has a $200 welcome bonus (after you spend $500 in the first three months from account opening) and no annual fee.
The Wells Fargo Active Cash credit card is an ideal "when in doubt card," as Nijhawan put it. It earns an unlimited 2% cash rewards on purchases without an annual fee. You'll also get a $200 cash rewards bonus when you spend $1,000 or more on purchases in the first three months. You won't be able to redeem your cash back for travel, but you can get gift cards, cash, or a statement credit.
The U.S. Bank Cash+® Visa Signature® Card* is another appealing option for rotating rewards. Every quarter, you'll get 5% back in two categories of your choice for combined purchases up to $2,000, and 2% back in a third rotating category of your choice. You'll earn 1% back on all other purchases. Plus, you'll get 5% back on travel purchases booked through the Rewards Travel Center. You'll need to activate your categories each quarter to get the elevated rewards rate, but you'll get a reminder. This card can be lucrative if you plan your purchases around your chosen categories.
*All information about the U.S. Bank Cash+® Visa Signature® Card and Chase Freedom Flex℠ has been collected independently by NextAdvisor and has not been reviewed by the issuer.