We want to help you make more informed decisions. Some links on this page — clearly marked — may take you to a partner website and may result in us earning a referral commission. For more information, see How We Make Money.
There's been no shortage of excitement in cryptocurrency markets in recent months, with plenty of new investors interested in buying in.
But taking that first step to purchase a small amount of bitcoin or ethereum requires plenty of research beforehand: what type of crypto you want to buy, the most secure exchanges to use, and even how you'll make the purchase. Because crypto transactions take place online, you might even consider using your credit card, like you would for many other online transactions to keep the purchase secure.
It is often possible to buy cryptocurrency using a credit card. But it's costly, and can add to the risk you're already taking by adding a volatile crypto asset to your portfolio. You'll incur fees from your credit card issuer and the crypto exchange you use, and take on high interest debt if you don't pay down your balance immediately.
"Crypto is still highly volatile without any guarantee of return, so when it comes to how much you invest it should be limited to how much you feel you can comfortably lose," says Lauren Anastasio, CFP and director of financial advice at Stash, an investing, banking, and education platform. "I would hate to see anyone charging large deposits to their credit cards with the hopes of large returns on their crypto investment only to get burned by credit card interest and fees."
Here are the details of buying crypto with a credit card, and what to know before you consider doing it.
Is It Possible to Buy Crypto With a Credit Card?
It is sometimes possible to buy crypto with a credit card, but it ultimately depends on both the crypto exchange you're using to invest and your credit card issuer.
Some crypto exchanges, including Coinmama, CEX.io, and Paxful do accept credit card payments. However, many exchanges, including ones like Coinbase and Gemini, which NextAdvisor includes among the best crypto exchanges, do not. Among the exchanges that do accept credit cards, terms and fees required for doing so can vary widely. As an example, crypto exchange Coinmama charges an additional 5% credit card fee on top of the transaction fees it charges to buy or sell cryptocurrency. At Binance, the fee for using a credit card is 2% on top of the extra fees your credit card charges.
Often, the fees are also higher than other forms of payment, including ACH bank transfer.
Pro Tip
Transferring money to a crypto exchange from your bank account using ACH transfer can be a fast and less expensive way to purchase crypto.
The other thing to consider is whether your credit card issuer will allow a cryptocurrency purchase using your card. Most commonly, your purchase will be processed as a cash advance.
Credit card issuers such as American Express, Chase, Capital One, and Citi all allow crypto purchases and treat them as a cash advance. "There are no known banks that do not charge a cash advance fee for purchasing cryptocurrency with a credit card," says John Taylor Garner, founder of credit card rewards app Card Curator.
The vast majority of credit cards carry fees for cash advances, which typically range about 5% of the advance, with a minimum of $10. What's more, cash advances incur higher interest and do not come with a grace period, meaning your crypto charges will begin accruing interest from the day you charge them — even if you planned to pay your credit card balance in full before your due date.
So, while buying crypto with a credit card may be possible, you'll more than likely rack up numerous expensive fees from both the crypto exchange and your credit card issuer if you choose to pay this way.
How to Buy Crypto With a Credit Card
If you want to buy crypto with a credit card, you should be aware of any and all fees that apply to the purchase beforehand, and be prepared to add that to to the cost of exchanging dollars for coins. This includes fees from both the crypto exchange and your credit card issuer.
If you do decide you don't mind the cost and want to buy crypto with a credit card, here are a few steps to take so you are clear on the extra costs you'll pay to do it this way:
Step 1: Inquire with your credit card company about cash advance fees and charges: Refer to your card agreement or call the number on the back of your card to ask a representative how much you'll pay in cash advance fees for purchasing crypto with your card, as well as the cash advance APR that will be charged on your balance.
Step 2: Determine how much you'll pay in exchange fees. If you've decided to invest in crypto, it's important to choose the exchange you'll buy (and possibly store) your coins on based on factors like fees, tools for investors, accessibility, and most importantly, security. If you choose an exchange that also accepts credit card payments, look for a page on the exchanges website that clearly outlines the fees you'll incur for using a card.
Step 3: Fund your account with your credit card, then use it to purchase cryptocurrency. Once your exchange account is funded with the money you plan to use for crypto, you can research coins and invest once you're ready.
Step 4: Pay your card balance off right away. Because your cash advance will begin to accrue interest when you make the purchase, you should have a plan to pay the balance down as quickly as possible, to avoid extra interest charges.
Benefits of Buying Crypto With a Credit Card
The biggest benefit of buying crypto with a credit card is the convenience. Making ACH transfers from you bank account can be tedious, since you'll need information like your routing and account number. If you typically have your credit card with you in your wallet, it can be easier than authorizing a bank transfer.
Security could be another reason to consider using a card over a bank transfer, Anastasio says. "Anytime your information is compromised you can easily have your card reissued with a new number, which is much easier and less time consuming than trying to update your bank account information."
Rewards may also be a potential benefits, but few credit card issuers allow you to earn points or cash back on cash advances. Plus, all the transaction fees involved in funding crypto with a credit card will quickly wipe out any benefit you get.
Risks of Buying Crypto with a Credit Card
Crypto is risky in general. You can easily lose money, and people often do.
If you're looking to buy crypto with a credit card because have the cash on hand to buy it outright, it can become even more risky. We strongly recommend only investing in crypto with money you're not afraid to lose. If you don't have the cash in your bank account to fund your crypto investment, you might want to reconsider whether to buy it at all.
If you decide to invest in crypto, you should do so with the full knowledge that you could easily lose your investment in the short-term or the long-term. That's because cryptocurrency is highly volatile. Nobody knows what will happen to crypto assets and their values over any length of time. It all depends on when you buy and when you sell, and adding credit card charges to the mix only reduces your chances of turning a profit.
Just as an example, a single bitcoin cost a little over $7,200 in Jan. 2020, surged to a new all-time high of over $68,000 in Nov. 2021, then dropped back down under $30,000 per coin as of May 2022.
Imagine if you bought a large amount of crypto with your credit card in Nov. 2021, paid all the required fees and interest, then watched the price of your investment drop by 50% during the subsequent six months. You would still owe the massive credit card bill, yet the value of your crypto wouldn't come close to covering the full cost.
Credit Cards that Offer Crypto Rewards
Editorial Independence
As with all of our credit card reviews, our analysis is not influenced by any partnerships or advertising relationships.
BlockFi Rewards Visa® Signature Card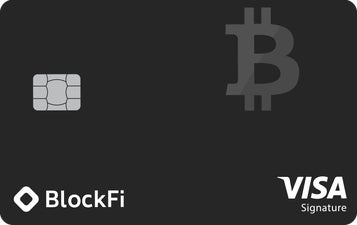 Apply Now
At BlockFi's secure site.
See Rates & Fees
, Terms Apply.
BlockFi Rewards Visa® Signature Card
Intro offer:

N/A

Annual fee:

$0

Regular APR:

15.74% – 25.74% (Variable)

Recommended credit score:

670-850 (Good to Excellent)
Rewards rate:
Earn 2% back in crypto on every purchase over $30,000 of annual spend. Rewards rate increases from 1.5% to 2% after $30,000 of spend has been achieved and resets on the card anniversary date every year. (effective 7/1) Earn 1.5% back in crypto on every single purchase.
NextAdvisor's Take
Pros
Earn crypto rewards on your spending
Graduate to a higher earning rate of 2% back in crypto after you spend over $30,000 on your card within a year
No foreign transaction fees
You can move crypto to another wallet or exchange
Get pre-approved
Cons
You must open a BlockFi account to apply
High APR for spending
Crypto rewards fluctuate in value
Does not allow balance transfers
Not available to New York state residents
The Bottom Line
The BlockFi Rewards Visa Card offers 1.5% back in cryptocurrency on all your purchases, and a boosted 2% back in crypto on any spending over $30,000 spent in a calendar year. You'll need a BlockFi account to open the card, and can choose between several types of crypto, including Bitcoin and Ethereum. Just remember, crypto prices are highly volatile, so there's no guarantee you'll get the same value for your rewards as you would earning cash back or points.
Additional Card Details
Comes with Visa Signature benefits including access to concierge services, travel opportunities, sporting events, upgrades through the Visa Signature Luxury Hotel Collection, and more
Once your crypto rewards are redeemed into your BlockFi account, you can hold or trade them through BlockFi or move them to another crypto wallet
Crypto rewards are paid out once per month, and you can only be paid rewards in once cryptocurrency at a time, though you may change your chosen crypto each payout period
Earn 0.25% back in Bitcoin on all eligible trades made through BlockFi (up to a maximum of $500 in Bitcoin per month)
No annual fee and no foreign transaction fees
Variable APR of 15.74% to 25.74%
SoFi Credit Card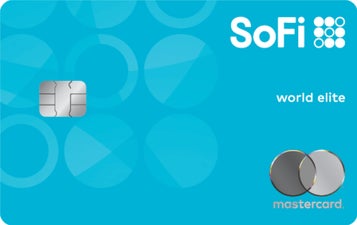 Learn more
At our partner's secure site.
See Rates & Fees
, Terms Apply.
SoFi Credit Card
Intro offer:

$200

Annual fee:

$0

Regular APR:

13.74% to 25.74% APR

Recommended credit score:

670-850 (Good to Excellent)
Rewards rate:
Earn 3% cash back rewards for a year when you set up direct deposit with SoFi. After that, earn 2%* unlimited cash back on purchases when redeemed toward investing, saving, or paying down an eligible loan with SoFi. Plus, redeem points toward crypto.
NextAdvisor's Take
Pros
2% unlimited rewards on purchases when redeemed toward investing, saving, or paying down an eligible loan with SoFi
Flexible redemption options including debt repayment, checking and savings deposits, crypto, or other investments
No annual fee
Cons
No bonus rewards categories to maximize
Get only 1% back when you redeem for statement credits
No welcome offer
Potential for high APR if you carry a balance
The Bottom Line
The SoFi Credit Card works much like other 2% flat cash back cards, but offers the best value if you already have another SoFi account. To get the full 2%, you'll need to redeem your rewards toward a SoFi checking, savings, investment, crypto, or loan account balance. There's no annual fee and you'll get a few added benefits via Mastercard, but there's no welcome offer for new cardholders.
Additional Card Details
Lower your APR by 1% after 12 monthly on-time payments of at least the minimum payment due
Cell phone protection up to $1,000
World Elite Mastercard benefits including discounts with Lyft, Hello Fresh, DoorDash and Fandango
ShopRunner membership good for free two-day shipping at select retailers (valued at $79)
No foreign transaction fees
Upgrade Bitcoin Rewards Visa®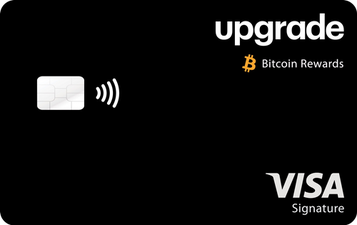 Apply Now
At Upgrade's secure site.
See Rates & Fees
, Terms Apply.
Upgrade Bitcoin Rewards Visa®
Intro offer:

$200 bonus

Annual fee:

$0

Regular APR:

14.99% – 29.99%

Recommended credit score:

670-850 (Good to Excellent)
Rewards rate:
1.5% back in bitcoin when you make payments
NextAdvisor's Take
Pros
Earn 1.5% back in Bitcoin as you make payments on your card
Fixed payments each month can help you save on interest if you carry a balance
No annual fee
No foreign transaction fees
Cons
Potential for high APR
Not available in every state
Rewards can fluctuate in value based on market trends
The Bottom Line
The no annual fee Upgrade Bitcoin Rewards Card lets you earn Bitcoin on your spending instead of traditional rewards points. You'll earn 1.5% back in Bitcoin as you pay your credit card balance off (not as you spend). But this card is not the best option for earning rewards on spending or for investing in crypto. You'll find better rewards rates from other issuers and better avenues to invest in Bitcoin from other exchanges, so we wouldn't recommend it for most people.
Additional Card Details
Bitcoin is added to your account 1-2 statement periods after your payment, and the value is based on market prices at that time
If you sell the Bitcoin you earn, you'll pay a 1.5% transaction fee, deducted from the sale
APR of 14.99% to 29.99%
Credit lines range from $500 to $25,000
Pay down balances with a fixed interest rate and set monthly payments
Not available in several states: Hawaii, Iowa, New Hampshire, North Carolina, West Virginia, Wisconsin, and the District of Columbia
Other Ways to Buy Crypto
Fortunately, you don't have to buy crypto with a credit card, and if you want to invest there are less costly and less risky ways to fund your exchange account. Generally speaking, the lowest cost option is with a bank transfer, which means you'll fund your crypto investment with cash you already have.
You can typically buy crypto this way through an ACH transfer or by connecting a debit card to your account. Just keep in mind, these methods may also carry fees fees for funding your account, and you'll pay transaction fees when you ultimately buy crypto.
These fees vary widely depending on the crypto exchange you use.
Make sure you compare all the best crypto exchanges before you decide to invest. From there, you'll also want to make sure you settle on a method of crypto storage (like a crypto wallet) that will keep your digital investment safe from hackers and thieves.
Investing in crypto is risky enough without using a credit card, and we don't recommend it. Mitigate your risk as much as possible by doing your research before you invest, don't put any money in that you can't afford to lose, and find the most cost effective — and secure — methods of exchanging your dollars for cryptocurrency.
*To qualify for the $200 bitcoin welcome bonus, you must open and fund a new Rewards Checking Account and make 3 debit card transactions within 60 days of your Upgrade Card account opening. The value of the $200 bonus will be based on the value of bitcoin at the time it is purchased (within 1-2 statement periods from the date the bonus is earned) and may change in price by the time you choose to sell it. Refer to Program Terms. Your Upgrade Card must be in good standing to receive a bonus.