The state of Oklahoma called a temporary halt to executions Tuesday, after a botched lethal injection caused a condemned inmate to clench his teeth and attempt to sit up during his execution. He eventually died of a heart attack.
Clayton Lockett, a convicted killer who was found guilty in 2000 of shooting and helping bury a 19-year-old girl alive, was first sedated and then received vecuronium bromide and potassium chloride as per standard procedure.
Shortly after administering the mix of drugs, corrections director Robert Patton noticed that the subject was not responding in the typical manner. After surveying the setup, the doctor present determined that Lockett's vein had exploded. According to Oklahoma Governor Mary Fallin's office, Lockett later suffered a heart attack and died at 7:06 p.m — 43 minutes after the execution began.
The execution of Charles Warner, an inmate who had been scheduled to receive the lethal injection later that day, was postponed until an investigation reveals the cause of the mishap. Warner was convicted in 2003 of raping and murdering an 11-month-old girl.
Both men had unsuccessfully sued the state f0r refusing to disclose the suppliers of the lethal injection drugs, on the grounds that they had a right to know where they came from, and to be assured that their deaths would not be cruel and unusual. But the error in Lockett's execution appeared to be one of administering the drugs, not the drugs themselves.
Fallin said in a statement that the department of corrections would conduct a thorough investigation "to determine what happened and why during this evening's execution of Clayton Derrell Lockett."
To Warner's attorney, Madeline Cohen, Tuesday evening's mishap brought to light the lack of transparency in the administering of lethal-injection drugs. "Something went horribly awry," she told CNN.
See the rise and fall of methods of capital punishment since 1700—from hanging to burning to lethal injection, including Tuesday's botched execution in Oklahoma. Interactive by TIME's Chris Wilson: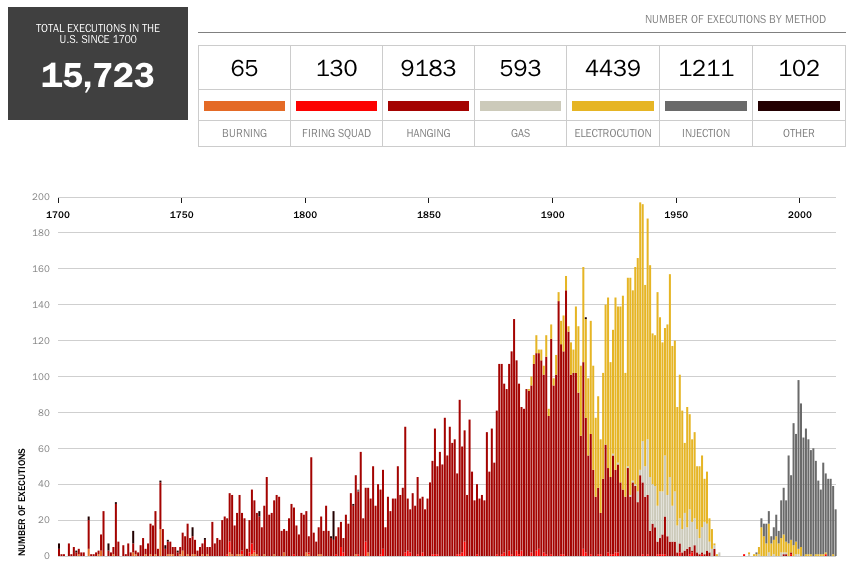 [CNN]
More Must-Reads From TIME
---