The many faces of Winona Ryder were the true winners of the 2017 Screen Actors Guild Awards.
No one was more surprised than the actress to hear her Stranger Things costar's David Harbour's acceptance speech for the Netflix cast's Outstanding Performance by an Ensemble in a Drama Series win.
Harbour's impassioned message had Ryder making a variety of expressions, including a raised fist and "deer in the headlights" look, and viewers couldn't help but notice them.
"This is heavy," Ryder could be heard saying while handing off the Actor statuette to Harbour.
"In light of all that's going on in the world today it's difficult to celebrate the already celebrated Stranger Things. Great acting can change the world," Harbour said on behalf of the cast.
"A call to arms from our fellow craftsmen and women to go deeper and through our heart battle against fear, self-centeredness, exclusivity of our predominantly narcissistic culture. And through our craft, cultivate an empathetic and more understanding society by revealing intimate truths that serve as a forceful reminder to folks that when they feel broken and afraid and tired they are not alone," he continued.
"We are united in that we are all human beings and we are all together on this horrible painful, joyous exciting and mysterious ride that is being alive."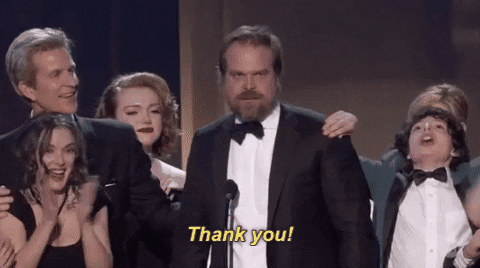 Ryder and costar Millie Bobby Brown were both nominated in the Outstanding Performance by a Female Actor in a Drama Series category.
This article originally appeared on People.com
More Must-Reads From TIME
---