No matter how avowedly nonpartisan they claim to be, every major retailer has a political identity ingrained in the locations of its stores. Six in 10 Johnny Rockets can be found in Democratic congressional districts, while eight in 10 Sonics are in districts that will send a Republican to Washington in 2015. (Fifty-eight percent of Congressional districts will be held by Republicans come January.) TIME recently explored these dynamics in an interactive chart that is reprinted at the bottom of this post.
To further plumb the mysteries of burger politics, here are a few lists of the chains that are most often found in only Democratic or only Republican districts.
We also ran the numbers for clothing, grocery stores and auto dealerships. Fancy an Arby's sandwich? Odds are you'll be driving there in your Buick.
The Most Liberal Burgers in America
| | | | |
| --- | --- | --- | --- |
| Franchise | Dem. | Rep. | Total locations |
| Johnny Rockets | 61% | 39% | 195 |
| White Castle | 58% | 42% | 409 |
| Jack in the Box | 53% | 47% | 2106 |
| Checkers Drive-In Restaurants | 53% | 47% | 494 |
| In-N-Out Burger | 52% | 48% | 264 |
The Most Conservative Burgers in America
| | | | |
| --- | --- | --- | --- |
| Franchise | Rep. | Dem. | Total locations |
| Jack's Family Restaurants | 95% | 5% | 127 |
| Hardee's | 83% | 17% | 1741 |
| Sonic | 82% | 18% | 3435 |
| HWY 55 | 78% | 22% | 112 |
| Arby's | 76% | 24% | 3188 |
The Most Liberal Car Dealerships in America
| | | | |
| --- | --- | --- | --- |
| Franchise | Dem. | Rep. | Total locations |
| Tesla Motors | 66% | 34% | 101 |
| MINI | 56% | 44% | 113 |
| Land Rover | 49% | 51% | 156 |
| Audi | 49% | 51% | 273 |
| Acura | 49% | 51% | 263 |
The Most Conservative Car Dealerships in America
| | | | |
| --- | --- | --- | --- |
| Franchise | Rep. | Dem. | Total locations |
| Lincoln | 77% | 23% | 786 |
| Pontiac | 77% | 23% | 2021 |
| Buick | 76% | 24% | 2025 |
| Chevrolet | 74% | 26% | 2973 |
| Ford Motor Company | 74% | 26% | 3015 |
The Most Liberal Clothing in America
| | | | |
| --- | --- | --- | --- |
| Franchise | Dem. | Rep. | Total locations |
| American Apparel | 84% | 16% | 134 |
| Simply Fashion | 77% | 23% | 228 |
| Rainbow Shops | 72% | 28% | 980 |
| H & M | 62% | 38% | 298 |
| 7 For All Mankind | 62% | 38% | 732 |
The Most Conservative Clothing in America
| | | | |
| --- | --- | --- | --- |
| Franchise | Rep. | Dem. | Total locations |
| Factory Connection | 95% | 5% | 282 |
| Cato Fashions | 83% | 17% | 1052 |
| maurices | 83% | 17% | 887 |
| Vanity | 81% | 19% | 148 |
| Buckle | 78% | 22% | 452 |
The Most Liberal Grocery Stores in America
| | | | |
| --- | --- | --- | --- |
| Franchise | Dem. | Rep. | Total locations |
| Stop & Shop | 83% | 17% | 395 |
| Whole Foods Market | 67% | 33% | 293 |
| Trader Joe's | 65% | 35% | 418 |
| Safeway | 64% | 36% | 865 |
| A&P | 63% | 37% | 300 |
The Most Conservative Grocery Stores in America
| | | | |
| --- | --- | --- | --- |
| Franchise | Rep. | Dem. | Total locations |
| Weis Markets | 83% | 17% | 321 |
| Kroger | 78% | 22% | 1297 |
| IGA | 77% | 23% | 1081 |
| Food Lion | 76% | 24% | 1113 |
| Winn-Dixie | 73% | 27% | 628 |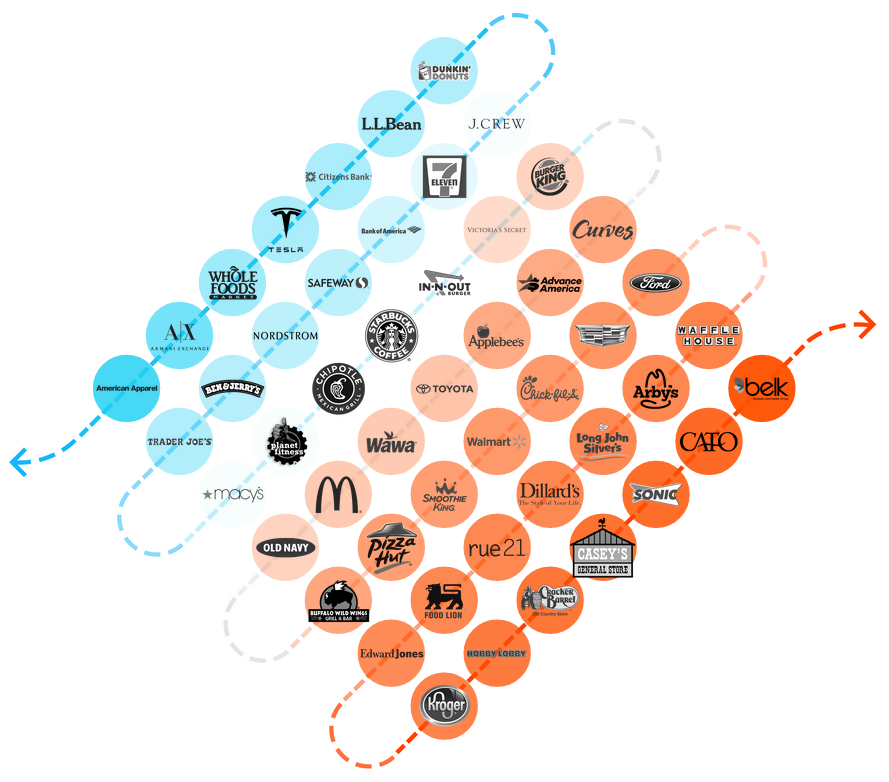 More Must-Reads From TIME
---