Sen. Mitch McConnell was giddy, not an emotion often seen in the sober 72-year-old Kentuckian. But that's the only way to describe TIME's interview with him in Perry County, Kentucky, on Monday afternoon.
Asked to imagine it was Wednesday morning and he wakes up majority leader—a position he's aspired to, he says, since the 5th grade—McConnell strikes a conciliatory tone, saying he hopes to work with President Obama and Senate Democrats. He said there would be no shutdowns on his watch, despite the fact that he plans to use funding bills to force changes in Obama's policies.
MORE: See all the election results
Notably, a full repeal of Obamacare was not on his mind, but rather a partial repeal through the appropriations process. Finally, he named his new top priority: keeping the Senate in 2016 (though winning the White House is also "not unimportant").
Below are lightly edited excerpts from the interview.
Top priority?
I think we need to do everything we can to get America back to work. And exactly which bill comes up first will be determined after discussing that with my colleagues and with the Speaker. Some examples of things that we're very likely to be voting on: approving the Keystone XL pipeline, repealing the medical device tax, trying to restore the 40-hour work week, trying to get rid of the individual mandate. These are the kinds of things that I believe there is a bipartisan majority in the Senate to approve.
Also, we're going to want to see what kind of things we might be able to agree on with the President. After all, he's going to be there for two more years. Maybe there are things that we can agree on. I'll give you a couple of examples where there may be areas of agreement: comprehensive tax reform and trade agreements. Most of my members think that America's a winner in international trade. The president hasn't sent us a single trade bill in six years. I hope he'll do that.
Would you undo the nuclear option?
Oh, we'll discuss that when we get back.
You realize that now you'll have to up your face time with the President, not a man you profess to enjoy spending time with?
Well, I'm the one who's cut the deals that we've had. All of them. Biden and I did the December 2010 extension of the Bush tax cuts; the August 2011 budget control act, which actually led to a reduction in government spending for two years in a row for the first time since the Korean War; and the Dec. 31 fiscal cliff deal 2012, which made 99% of the Bush tax cuts permanent and saved virtually every family farm and small business in my state from being sold by altering the Death Tax exemption. So I'm not fundamentally opposed to negotiating with the President and his team and, in fact, I've been the one who's done that in the past. So, sure, he's going to be there for two more years, so we're going to sit down and talk to him and see what we might be able to agree on.
You didn't mention immigration reform, will that be possible in the next two years?
We're going to discuss that after the election.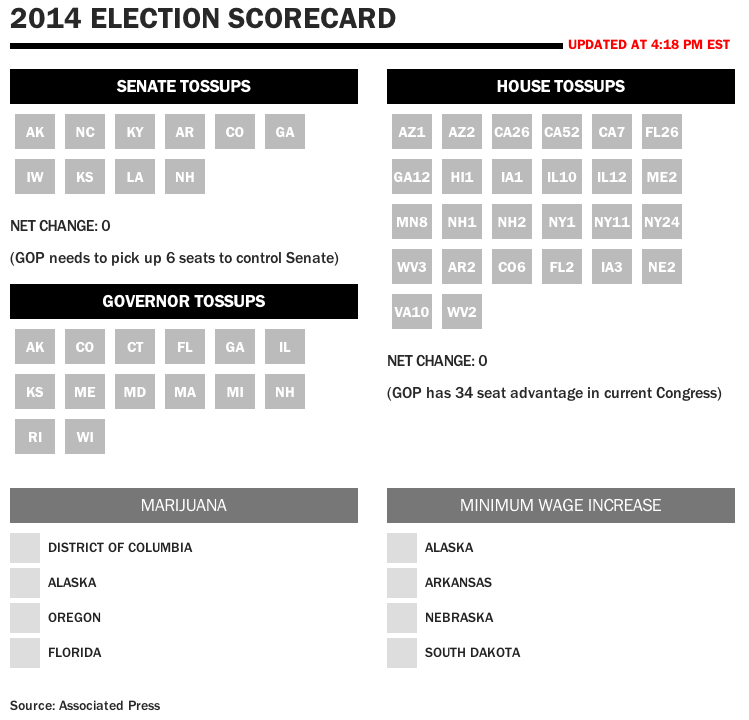 What if the president does some sort of executive action on immigration?
Well, he's done a lot of that sort of thing and the way that you push back on executive overreach is through the funding process. We're going to pass a budget. We're going to pass appropriations bills. Appropriations bills are going to have prescriptions of certain things that we think he ought not to be doing by either reducing the funding or restricting the funding.
But if you pass spending bills that he vetoes, doesn't that lead to the possibility of a government shutdown?
Well, what happens when he vetoes an appropriations bill is you re-pass it.
Is there a possibility of a government shutdown?
No. There is no possibility of a government shutdown. Remember me? I'm the guy that gets us out of government shutdowns. (He laughs.)
MORE: The weirdest moments of Election Day 2014
You said to me once that you'd be most like George Mitchell as majority leader, do you still believe that?
Yeah, I do. The other hero of mine is Mike Mansfield. The Senate needs a lot of institutional repair. We need to get back to normal, and normal means that senators can offer amendments and actually get votes and the committees actually work. And we actually work occasionally or Fridays. There are a number of things that we need to do to become more productive. Some of it has to do with rebuilding relationships across the aisle and some of it has to do with just simply working harder.
What about building relationships within your own parties. Presidential hopefuls like [Texas Senator] Ted Cruz?
Look, we have a big party. Everybody from [Maine Senator] Susan Collins to Ted Cruz. There are lots of different points of view. Bringing them together, that's my job and I work on it every week.
Isn't restoring normal order risky, though, given that you have eight members up in blue states in 2016?
The first thing we need to do is be a constructive, right of center governing majority in the House and Senate.
MORE: Your guide to the 2016 GOP primary field
So, in 2016, what's your top priority?
Well, it'll be to keep the majority, of course.
What about winning the White House?
Well, that's not unimportant. Obviously, winning the White House is the most important thing and I think we're going to have a good shot at it.
Read next: The Challenge for the New Republican Majority
More Must-Reads From TIME
---