The prevalence of sexual assault on college campuses is often masked by low levels of reporting, as Eliza Gray reported in a recent TIME cover story. Despite the troubles with reporting, comparing the number of incidents that are recorded on campuses can be instructive. In the interactive below, you can search for your school to see how many sexual assaults it reported between 2006 and 2012.
Counterintuitive though it may seem, a higher number of reports from an institution is often a good sign, because it means the school is doing a better job than others at addressing the issue. According to research from the Department of Health and Human Services [pdf], nearly one in five women is the victim of sexual assault or an attempted assault while attending college. Reporting levels for all schools are well below that number.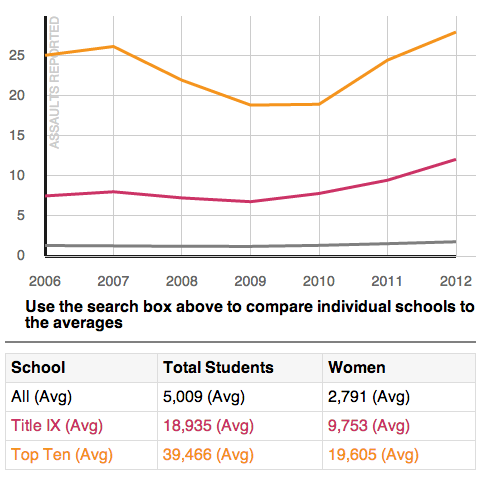 All schools that receive federal funding must submit annual security reports to the Department of Education, and the White House recently pressured universities to address the problem more proactively.
In 2012, the most recent full year on record, 4-year non-for-profit and public institutions averaged 1.8 reported assaults. The 55 schools currently facing Title IX sexual assault investigations averaged 12 reported assaults in 2012. The ten schools with the highest number of reported assaults average 27.9 in 2012. As the chart shows, the number of reported assaults is on the rise at many institutions.
Here are the top-ten schools with the highest cumulative reports of sexual assault from 2006 to 2012. Again, high reports don't necessarily mean the highest levels of the crime.
Ohio State University-Main Campus, 248
University of Michigan-Ann Arbor, 208
University of California-Davis, 206
University of California-Los Angeles, 168
Harvard University, 152
Indiana University-Bloomington, 149
University of California-Berkeley, 143
Pennsylvania State University-Main Campus, 136
Dartmouth College, 125
Princeton University, 122
Numbers show on-campus and off-campus forcible and non-forcible sexual assaults.
Methodology
Forcible and non forcible sexual assaults are available from 2006 to 2012 from the Department of Education's annual security reports. This includes on-campus security reports, such as dormitories and school buildings, and non-campus security reports like Greek housing. Schools are filtered by four-year private not-for-profit schools and public schools.
More Must-Reads From TIME
---